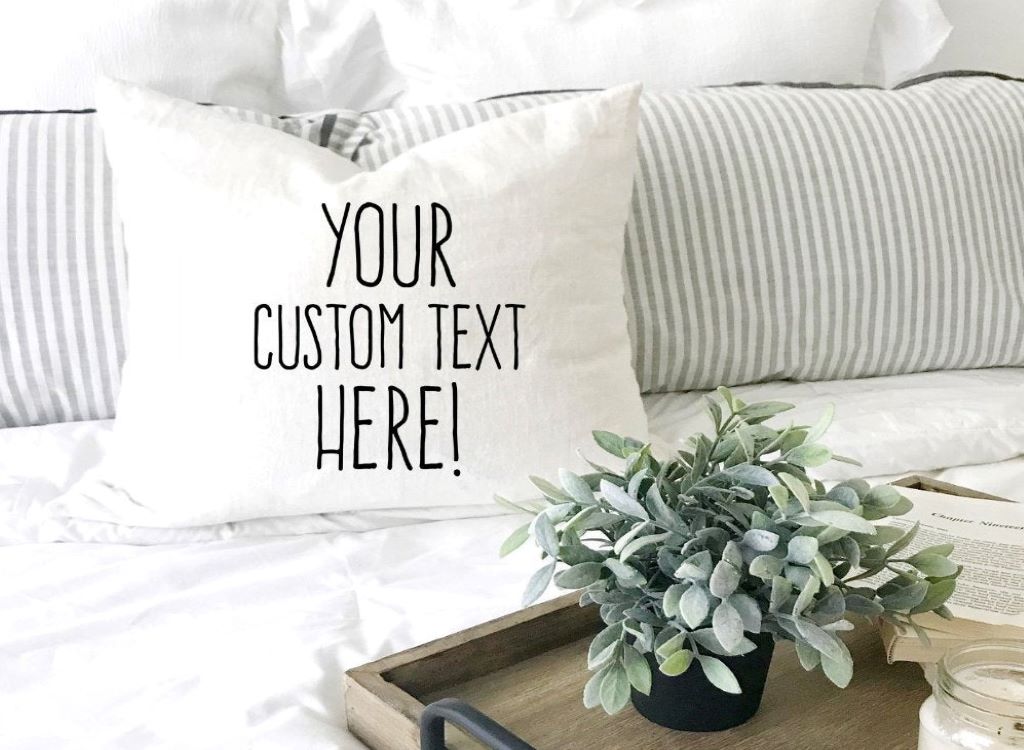 A custom lamp or pillow is not the first gift idea that comes to your mind. But both make brilliant gifts. They might be just what you were looking for. Why? Here's the answer to that question.
Explore the trend
A custom, customized, or personalized gift is an item uniquely fitted for the gift recipient. A custom gift can carry the person's name, a special date, or a photo, like photo printed mugs and T-shirts we all know so well. But the custom gift market today is much more than just mugs and T-shirts. The data show that google searches for the keyword customized gifts are increasing every year. Still, this year is special. The global pandemic and lockdown are permanently influencing our shopping habits and needs. Since the beginning of the outbreak, online shopping has increased by more than 80%. The same study also shows that six out of ten persons claim they will continue to shop online to the same extent even after the end of the lockdown. This might indicate that purchasing gifts online will be a long time trend.
Now that we are finished with the serious staff and statistics, let us take it simple. The custom gift market's growth is useful for anyone searching for a gift. And most likely, at some point in life, it means everyone. There are many new manners of gift personalization, as well as there are countless fresh products. Getting lost in this jungle of items is easy. I will take the chance to introduce you to the pros and cons of customized gifts and how to make a good choice when looking for one. Besides being a part of a trend, here are two reasons why personalized gift like custom lamp or pillow is a good gift choice.
A custom gift means exclusivity
Custom is one of the keywords behind the custom gift market's success. To understand why a personalized gift is a great present, you have to ask yourself: what makes a gift great? What is "that thing" that we anxiously look for every Christmas and Anniversary? The easiest answer to this question is to think differently and ask: what makes a gift bad?
Many studies have been written to find the secret of a good and a bad gift. And many articles have been written on this subject. However, my goal today is not to find the mystery of life. I will stop at one basic truth: The biggest sin for a gift is to look randomly selected. The purpose of gift-giving is to express gratitude and appreciation for someone special. It should be visible that you chose this item thinking of him/her. And what could be an easier and more direct manner to do it than customizing the gift with a symbol that represents this person? This is one of the reasons why so many people prefer customized gifts over simple items. His or her name, a date, or a special memory celebrates this person and your relationship with him.
There is another advantage of a personalized gift. Regardless of where you are – at home, work, public transport, or on a vacation abroad, designing and purchasing it is easy and requires only a few steps. Upload an image of your choice, choose a few basic measurements like color and size, and you have made your custom gift.
The many faces of a custom lamp and pillow
Now that we have learned the great force of gift customization, I have to sadly admit you: even the best personalized gift experts cannot resolve some issues.
You can customize a new, wonderful, speedy Ferrari and decide it's a good Christmas gift for your grandma. But unless your grandma has a special affection for speedy cars, she most probably won't enjoy this gift. What you need to know is that the core of a great gift is the experience it evokes. A gift which cannot be valued and enjoyed, cannot bring any experience. Customizing your gift will add to it a personal touch, but you always need to pay attention to your choice of present.
Therefore for this post, I picked two custom gift items that provide us with more than just personal customization. These two items have a value that will shine through no matter their personalization.
A custom lamp is a stylish and practical design element always and everywhere. In winter it's a great source of light and warmth. In summer nights it sets the mood of your choice. A custom lamp like Uniqcube offers you different ready-made designs. Pick one of them or let your imagination fly by choosing any type of background image you like. Because of the lightness of a custom lamp, your gift recipient can decide the best placement for it effortlessly. To see more custom lamp ideas, look at this interesting list we made.
Same as a custom lamp, a pair of throw pillows is another gift that never fails. There is always a chance to customize your pillow with a personal photo or a quote, but it's not a smart choice for someone you are not familiar with. If this is your case, then do something easier: brighten up your gift recipient's place. Choose an extravagant bold pattern or a safer classical design. If you still have doubts about the design, don't worry and remember how handy a throw pillow is when laying on your couch and binging on Netflix. A throw pillow is a always necessary item.
To sum up
When looking for a gift, take into account: Choose an item your gift recipient will appreciate and then personalize it as you wish. Both custom lamps and pillows are cozy and useful items already, but customization can only improve them. And remember that the customized gift market is a growing trend. Enjoy the many new great gift possibilities it offers.