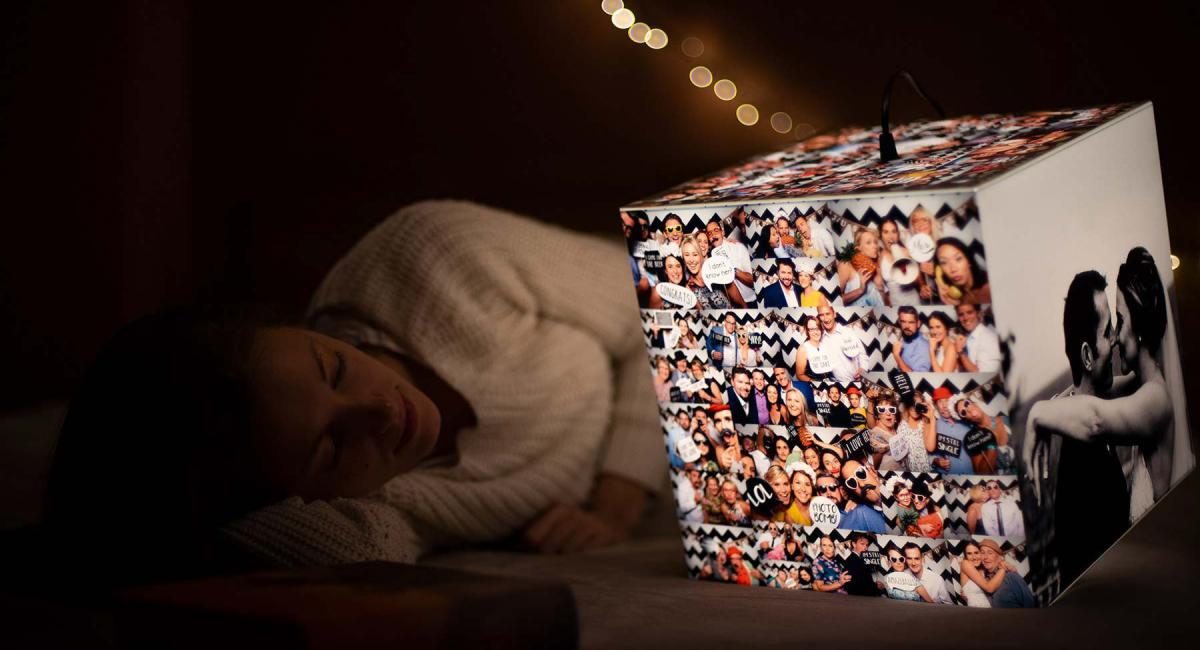 Are you searching for a practical-yet-modern lamp as an addition to your living space? If you wish to fill up the empty space in your home or simply feel the need to switch up your dull and conventional lamps, add a touch of uniqueness to your home with personalized lights! Explore the various ways you can creatively light up a room from our favorites below.
UNIQCUBE lights
Turn the picture frames on your nightstand into a gorgeous light! Preserve your family, friend, or pet pictures into an elegant light cube and watch as your favorite memories glimmer in front of your eyes on each side of a UNIQCUBE lightbox. Customize your own on the UNIQCUBE website, upload your own pictures to the six sides of the cube, and expect a stunning lightweight lightbox to be delivered on your doorstep. Indulge in a recollection of the good times on dark, cold nights with this light-up box of memories.
Neon personalized lights
Neon lights are always associated with bars, clubs and the city as a symbol of show business and entertainment. Experience the excitement of nightlife and create an electric party atmosphere in your own room! Custom Neon lights offer you to create your own neon sign, whether you want it to be your name, phrase or a simple drawing or logo. Turn your idea into a personalized light in the online designer of the website below and watch as the walls of your room glimmer in the dazzling lights of your own neon sign.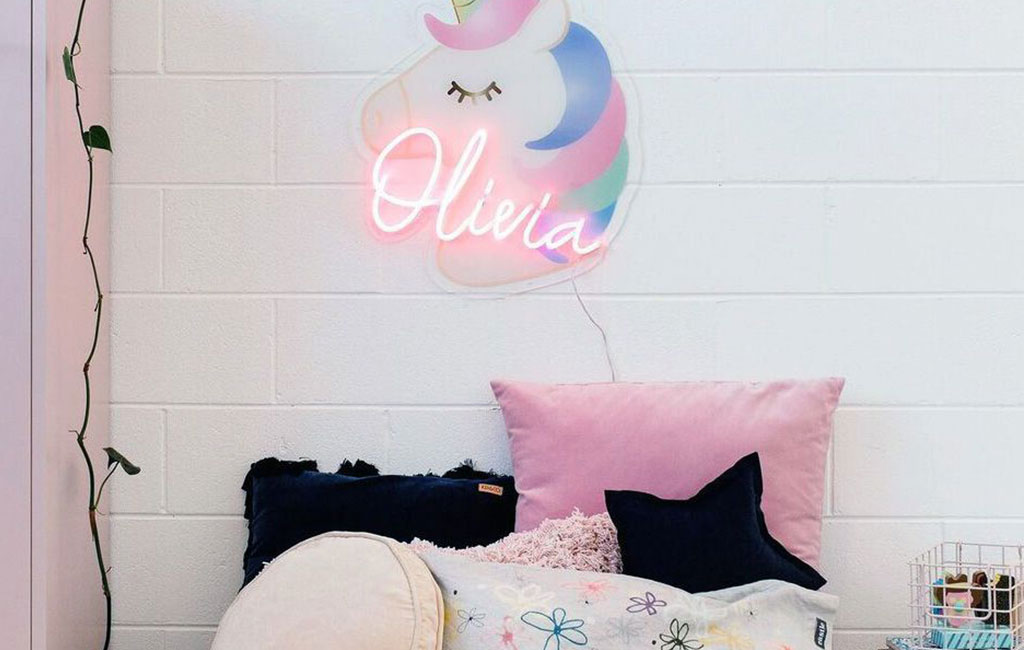 Friendship light
Light up a loved one's day with these magical lights! Gift one to your friend or family member, keep the other one for yourself. Wherever you are- across the state, country, or even the World- a simple touch anywhere on the stunning lamp will emit a sparkling glow on your loved one's identical one. All it takes is to set up the lamp via Wi-Fi, connect your friend or relative to a group ID, then simply touch it to let them know you're thinking about them. You can choose almost any color imaginable to light up in your lamps, which, when touched, pulse for a couple of minutes, then slowly dim over the next 30 minutes. Placed on a wooden base, the Friendship lamps have a stylish and sleek design which will become a fantastic accessory to any home.
Constellation lights
Deep space. The cosmos, a constantly expanding ocean of emptiness. Regardless of how unreachable and massive it may seem, you can't deny the beauty and fascination of the deep vastness of the sky above our heads. If you love to marvel at the hundreds of stars in the night sky on dark summer nights, why not bring them to your own home? Constellation lights by Richard Clarkson present you with an opportunity to fill up the empty space in your room with lights, shaped like zodiac constellations. Ideal for lovers of astrology, these sleek and elegant constellation lights will bring the universe to life in your home, and capture your own astrological personality within the stars above your head.
Lumiletters personalized lights
A large, simple, LED-illuminated light in the shape of a letter is an exceptionally minimalistic, yet gorgeous addition to any room in your home. Choose a light in the form of your own initials, the first letters of the names of your family members or even form a word or a phrase from the beautifully light-infused letters. Handmade from copper metal wire frames and wrapped in luminescent LED lights, Lumiletters will be a stunning sight on your fireplace or your living room wall.
Light Stax light blocks
Design any shape or form out of Light Stax construction blocks and watch as your creation lights up! Add the multi-colored blacks to the base and construct incredible sculptures of geometric light. These light blocks are perfect for households with kids, but they are guaranteed to inspire creativity within adults, too. Light Stax will provide for a geeky, yet stylish addition to your room and allow you to create anything that lights up your imagination.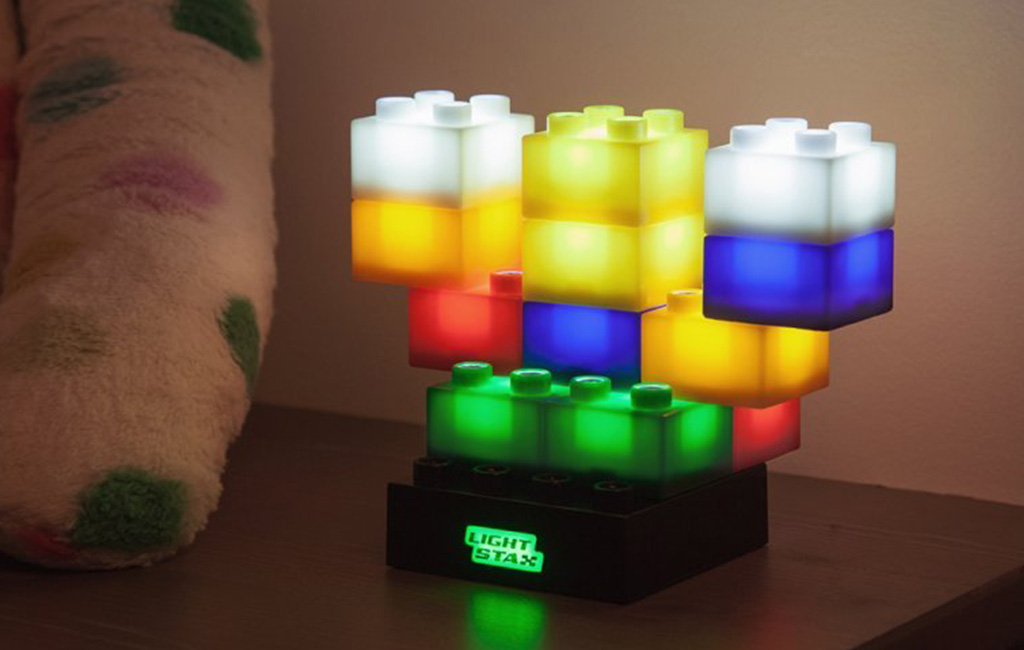 Abyss Table Lamp by Kundalini
The lamp's quirky design may seem a bit off-putting and unappealing at first sight, but there is undoubtedly something mesmerizing and unique about its bendy organic form. First designed in 1997 and made out of polycarbonate material, the LED-powered lamp submits to your creativity, letting you twist and adjust it in a variety of shapes. Design a new form of your table lamp every day!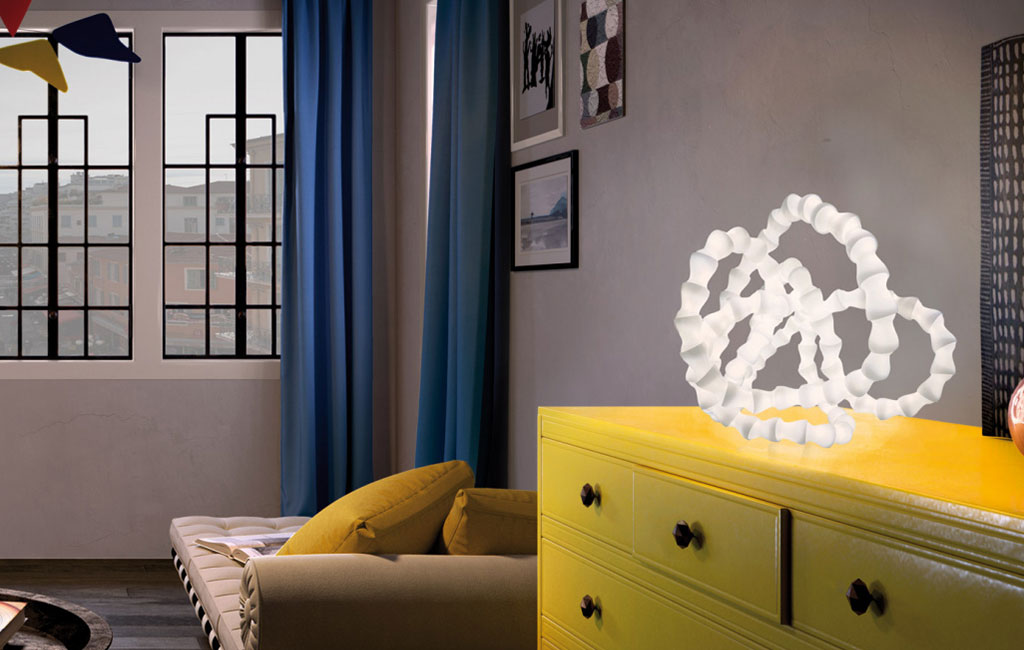 3D photo light
Make the memories in your picture frames come alive with this custom light! Submit a photo of you and your loved ones and watch as the outline of your portrait illuminates your nightstand. Not only does this meaningful light-up piece create a beautiful illustration of your favorite picture, but you also have the option of adding text to its wooden base.
My Cinema Lightbox LED lights
Are you looking for a light to bling up your everyday space and make your day-to-day surroundings stand out? My Cinema Lightbox will be the perfect retro accent to your room. Inspired from vintage movie theater signs, My Cinema Lightbox is a cube-shaped light that allows you to add your own words, phrases or symbols to its display, while lighting them up from behind. You have the opportunity to choose its size and color, making it perfect for any mood or occasion. Lightweight and portable, you can slide in any combination of letters to its slotted lines and create a blockbuster bling vibe on your desktop, side table or wall.
Which one spoke to you?
Intriguing and eccentric, these personalized lights are guaranteed to add an accent to any place at your home. Watch as your guests go "Wow!" as you light up your flashy lamp and create a vibrant ambiance in the room. Which one of these impressive light decors will you show off this season?