The most wonderful time of the year is approaching us! However this year because of Covid- 19 the holiday season might be different for the majority of you. On the bright side you still can enjoy the Christmas music, the great films and the delicious food. During the holidays the streets and houses look magical, filled with fairy lights, everyone is in a great mood. Is there anything not to like about Christmas? Finding presents? You do not want to buy the same pre- packed gift box or another impersonal gift card? This year we got your personalised Christmas present shopping list covered for you! Here you will find some gift inspiration for anyone you know without leaving your house.
Personalised comfort – the perfect 2021 Christmas present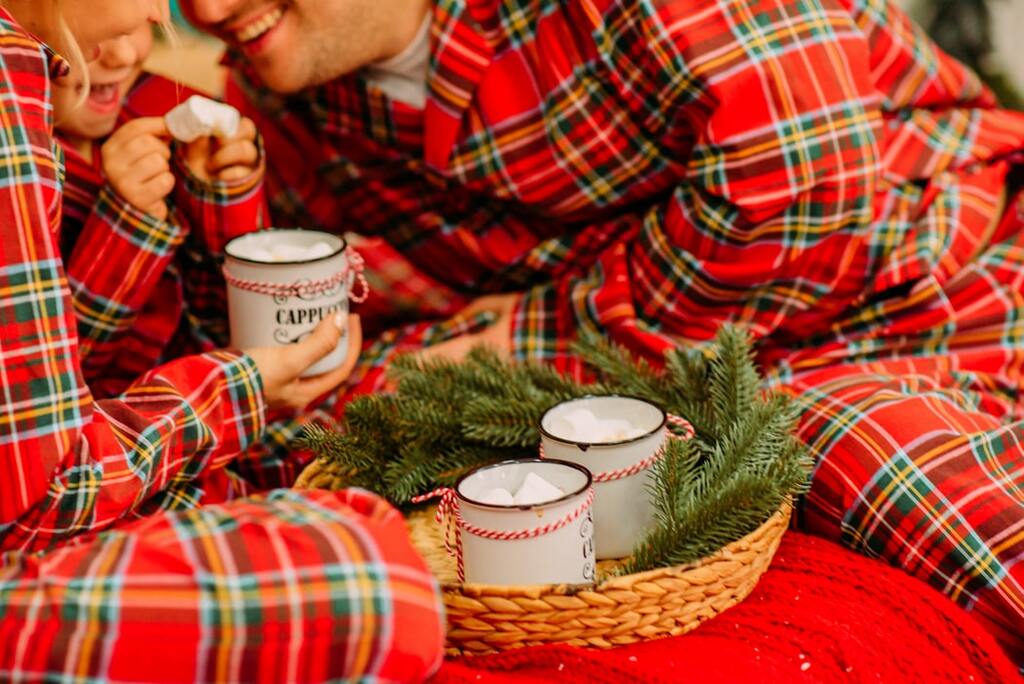 Pyjamas – this present is great for a large group of people, for example, your colleagues, friends, or family. The best thing is you do not have to think of several Christmas present ideas.  Choose a style, design, add a little personal touch (printed initials, photos, quotes) to every PJ set! Or you can all be matching. Comfort in 2021 is the key! You may also add a soft, personalised robe or some comfy slippers… or maybe a sleeping mask? This would make a great set! Think about the amazing Christmas pictures you could make together! Most likely, this year some of you may not be able to see your family for Christmas that is why connecting online is essential. If you are separated for the holidays, wear your matching pyjamas on a zoom call or send pictures to the group chat, whilst playing Christmas song trivia or taking any Christmas related quizzes, games.  
Thoughtful, personalised Christmas present for your partner
Make a personalised Christmas present without leaving your house! Design a cube lamp. There are endless possibilities. Here are some of the ideas – photos, they could be Christmas photos from the previous years or just any kind of photos that symbolize a milestone for the both of you. Another idea is to be old school yet with a modern touch – write a letter, then scan it and put it on a lamp. This makes a unique, personal, and memorable Christmas present! If you are not so good at putting your thoughts on a paper, write a quote or six different quotes for each side of the cube. Write them in your handwriting to make it exceptional – a present just for them! We have addressed this one to your significant other, however you can personalise it accordingly to any friend or family member. I think this present really shows that you have put some thought into it, anyone would love it!
Personalised Christmas care box for a college student
This personalised Christmas present will come in handy especially for college students or any students for that matter. As people get older, they start to appreciate more practical presents. Whereas a student you are happy with anything you get, if that means there is one less thing to spend money on. Make a college student care package! Get brainstorming! What would you have wanted to have as a college student? What were the essentials? Snacks, ramen noodles, first aid kit, charger, sweatpants? You could put that all in a backpack or make a personalised box. Whether you buy the box in a store or DIY it out of an old shoe box – I can guarantee the student is going to be grateful!
A Christmas present that any kid would enjoy
Have you heard of music speakers for kids? You can use them as MP3 players, where the content can be imported offline. I know that as a kid I would have loved it! It would have been the most awesome present to find underneath the Christmas tree. There are several designs available, my favourite are the ones shaped as a toy therefore they get two in one – a toy to play with and a music player. You will not have to worry about any inappropriate ads popping up or spending time connecting the device to your phone or searching for songs each time your child requests it. It will be easy and simple because they can just press the power button, and everything will be sorted. Import music from their favourite cartoons, films or just any music you know they like! An alternative is to buy a regular speaker and make a personalised playlist, however I believe the toy option is way more fun!
Experience > Material Christmas presents
This one is probably my favourite personalised present on the list! I am all for gifting experiences. In a crazy year like 2021, where all our travel plans have been postponed, I think this is temporarily the best solution – taking a road trip in your home country! Of course, this also depends on the restrictions in your area, however if it is allowed – make a trip somewhere in nature you have always wanted to go just never came around to it! Plan, make your road trip agenda, put it in an envelope as a present to put underneath the Christmas tree. You could also send an e-mail or make a video, a presentation, point out all the stops or activities you have planned! Be creative! Pack a picnic basket, bring board or card games, make your road trip playlist, maybe book a cabin.  If you are stuck home for the time being, take your road trip later as soon as it is safe! Do not forget to capture the memories by taking lots of photos!
Summary
2020 and 2021 hava truly been a roller coaster for us. So here are 5 unique, special and personalised Christmas presents for everyone you know which will make your end of this year less stressful. Everything starting from personalised pyjama sets, customizable cube lamps to care packages and speakers you can purchase in the comfort of your house.  
Image credit: Eugenia Visochina, Joko Nugroho, Quintin Gellar, Cottonbro.