Do you love taking photos? Maybe you have been looking for a meaningful gift for someone you know who likes to capture the best moments of life in photos? Even though traditional ways of keeping memories alive with photography by using printed photos or photo albums is a classic, there are other new and different creative solutions, too. The following list of trendy photo gifts, such as photo calendar, photo lamp or photo puzzle, could be very helpful if you are looking for interesting ways to implement photographs into a gift that's personalized according to your liking and needs.
Custom Photo Puzzle
Do you know someone who likes to solve puzzles? Puzzle solving is not just for children because adults can have fun and benefit from it as well. Solving puzzles improves memory, lowers stress levels and betters problem-solving skills, which all can be useful in someone's professional career life. But don't forget that puzzle solving is also a fun way to spend time by yourself or with friends and family since it can improve mood and better collaboration between people.
Instead of going to the store and buying a premade puzzle why not order a custom-made photo puzzle? Custom photo puzzles can be customized with photos of nature, travel destinations, celebrations, portraits of loved ones, they can vary in size and form so your options for customization are broad!
Photo Lamp
Are you looking for a gift that is both personal and useful? Uniqcube photo lamp creates a wonderful ambiance in indoor spaces, it is lightweight and easy to personalize. You can personalize it with photos of fun, cherished moments shared together with the gift's receiver or upload photos from Facebook to create a mosaic of different photos that will be personal and close to their heart. Photo lamp is definitely the right photo gift choice if you are looking for a personalized and practical gift that allows photos with the recipient's favorite moments come to life.
Handcrafted Custom-made Necklace
Did you know that jewelry and photography go together? Gifting a custom-made necklace that is handcrafted out of resin and sterling silver is a great option if you want to incorporate meaningful photos with fashion. Choose a photo of the person you want to gift the necklace to or beautiful travel or wedding photo and your customized photo gift is ready as a piece of jewelry!
Photo Playing Cards
If you know someone who would be thrilled to receive anything that screams fun, then photo playing cards will be great gift alternative! This photo gift is impressive, affordable, customization friendly and it can be used whenever there is a party. There are 54 standard size playing cards that can be personalized by uploading a photo that you think the receiver will enjoy. Pick something that's funny or choose a photo of a couple, or make a picture collage as the backside image for the playing cards. So, if you want your card enthusiast to receive an exciting gift that can be used as a game, then photo playing cards is the answer!
Personalized Mugs with Photos
Do you want to brighten someone's day each morning? You can help them start morning off the right note with a personalized mug. Now drinking coffee or tea gets more enjoyable! The mugs can be personalized with photos of people, pets, flowers, symbols, as well as with text and poetry. These personalized mugs are an excellent gift for bachelor and bachelorette parties, birthdays, the holiday season and anniversaries. Time to make mornings less drab by gifting a personalized mug with photos to someone who wants to enjoy the little things in life!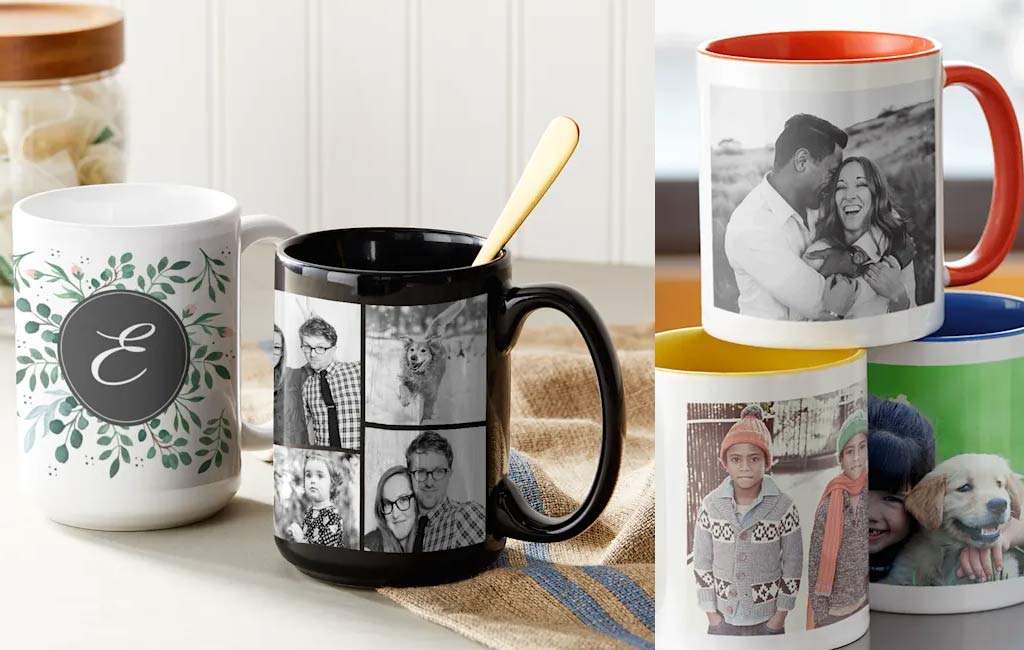 Photo Calendars
Old-school calendars are becoming trendy again so why not design a calendar with photos and gift it to someone you know? Choose A3 or A4 size and between a wall calendar and table calendar. For each month find photos that you think the gift's receiver will love seeing and add custom holidays and celebration days for any date of the year. Photo calendars are a great gift for those who share love for organization, planning and scheduling.
Apron with Photos for the Cook
Looking for a perfect custom-made gift for a cook or a foodie? Then gift them an apron with a personalized photo! Choose a photo of them cooking their favorite meal or upload a photo of one of their best cakes! Now, the cooks and foodies in your life will be able to cook, bake and eat in style!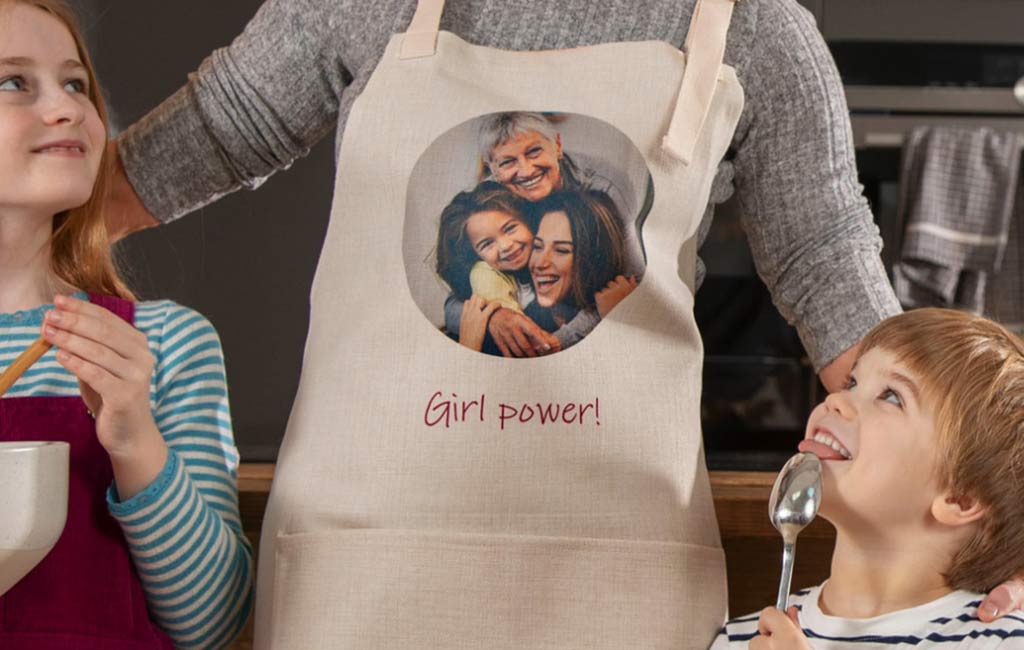 Photo Throw Pillows
Help someone decorate their living space with personalized photo throw pillows! This will be a great gift if you are celebrating the purchase of a new home or moving in in a new apartment. Throw pillows should not be limited to solid color or premade patterns that you can buy in store. They can be customized with different photos, text and images to create a gift. Design a fantastic throw pillow for a friend, family member, significant other or your kids to create a more cozy, personalized atmosphere in their home.
Customized Phone Cases
Since more and more people are using their mobile devices on a daily basis for work, education, entertainment and socialization, customized phone cases with a photo would be a very useful, trendy and fantastic gift to receive. All you need to know is the device of the gift's receiver, and choose a photo that they will love! The end result is an exciting, personalized gift that is also durable. Keep your friends' and family member's mobile phones safe with style by gifting a customized photo phone case!
Summary
Photos are a great way to capture life, emotions, beauty, fun and meaning. Photo gifts come in different sizes, designs, options but they all can be personalized to match the style of the gift's receiver. Choose from a photo calendar or a photo lamp to photo throw pillows! If you want to surprise someone with a special, meaningful gift, then photo gifts are the answer!