"Toto, I have a feeling we're not in Kansas anymore…" I have to agree with Dorothy talking to her pup in The Wizard of Oz. The world of today has changed its colors. For example, as statistics show, marriage rates keep falling and many couples prefer to live together without marriage. With is in my mind, I have made this personalized anniversary gift list that connects tradition with the modern lifestyle of today.
Anniversary names used to be for celebrating the day a wedding took place. But not anymore. Paper, cotton and other materials symbolize each year of your relationship no matter its status. These 8 personalized anniversary gifts can be the beginning of your own tradition. Or just have a look and get inspired by these great gift ideas.
Year one. Paper: treasure your beginnings
Paper might be a fragile material, but it is the perfect element to embody our memories. And the first year of the relationship is full of them. The first date, first vacations together… there are many firsts to remember. Save these memories with a custom photo lamp. A custom lamp shows your past adventures and serves as an inspiration for new ones. It's a stylish design element enlightening your living room, bedroom, or her or his workspace. Pick your favorite photos and create a colorful mosaic of the most cherished moments.
Year two. Cotton: from a seed to a plant
Cotton is a natural material with many good characteristics: its soft, light, and breathable. It makes the perfect material for a personalized anniversary gift for your household. Towels and sheets are good options, but they might be challenging to personalize. For this reason, I prefer a bathrobe that's customized with a monogram. A bathrobe is a personalized anniversary gift that lets you pamper your loved one to the maximum. Adapt the design and color of the monogram to his or her style. Show him or her you care for their comfort.
Year three. Leather: a touch of firmness
After three years both you and your relationship have matured. You have had arguments, moments of joy… you have proved the endurance of your tie. For this reason, the symbol of the third anniversary is leather. Its a durable and trustworthy material.
Let your partner's notes become durable and trustworthy with a design leather notebook. This notebook is a stylish and solid item for writing down plans and ideas. Embossing will highlight its individuality. Design one with a name or his or her favorite saying.
There is also an eco-friendly vegan version of a this gift
Year four. Linen: a personalized anniversary gift from nature
Linen is a natural fabric with a long and interesting history. In ancient Egypt, linen was widely used as a fabric for clothing, bedding, and even mummy wrapping. Linen's breathability and moisture absorbency make it a treasured item still today.
A linen duvet cover will let you spoil your significant one with the quality of nature. Linen regulates body temperature so you can avoid sweating and heat during sleep. And this duvet cover is customized only for you two. Get a personalized anniversary gift by adding an embroidery of your names, initials, or a sweet dedication.
Year five. Wood: maturity and stability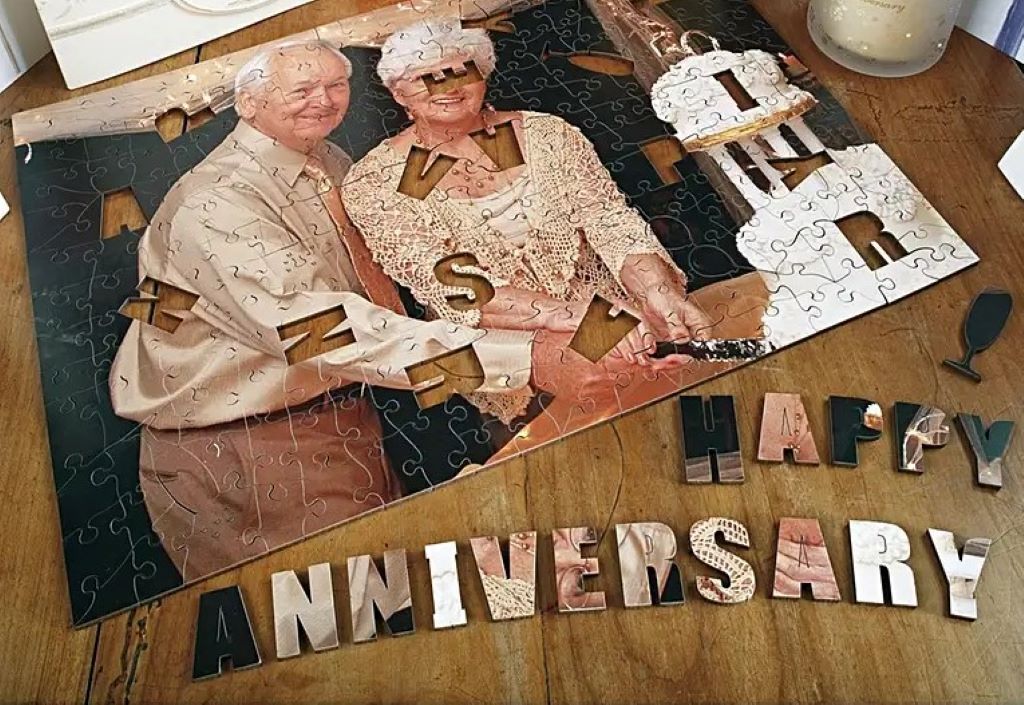 The beginning of the anniversary name tradition dates back to the middle ages. But some of these materials, including wood, became anniversary symbols during the Victorian era around the 1800s.
Wood is a good material for building things. But sometimes moments together are the ones to build a relationship. For this reason, forget about the couch and movies for one night. Give yourself and your other half a cozy evening with a customized wooden puzzle. Choose a smaller size for something easy. Or a pick 1000 or 2000 pieces puzzle that will be a real challenge for both of you. Share fun moments with your loved one using this personalized anniversary gift.
Year six. Iron: build your relationship
We have arrived at the first metal. Iron is the most used metal of our everyday lives. A hidden iron nail is a small item, but it can have a powerful meaning. Just like the magic of a relationship hides in small everyday gestures, an iron bowl can be the difference between a house and a home. The "perfect catch-all" is the best name to describe it. This iron bowl guards anything important, from keys to coins. Its design is clean and elegant, yet iron gives it a firm look. Customize it with your message, like the date of your first meeting. You will get the perfect personalized anniversary gift for your home.
Year seven. Wool: a personalized anniversary gift of warmth
Seven years is a noteworthy period for a relationship. It's no wonder that the seventh anniversary symbol is wool. It's a natural, sustainable, and warm material symbolizing the strength of your relationship. A wool pillow or cushion is the perfect personalized anniversary gift. This cushion attracts by its unique, special design. It will be a guaranteed eye-catcher for your guests and a chic design element of your home. Make it your own by adding initials of you both. And enjoy it on long evenings together on the couch.
Year eight. Bronze: adorn every day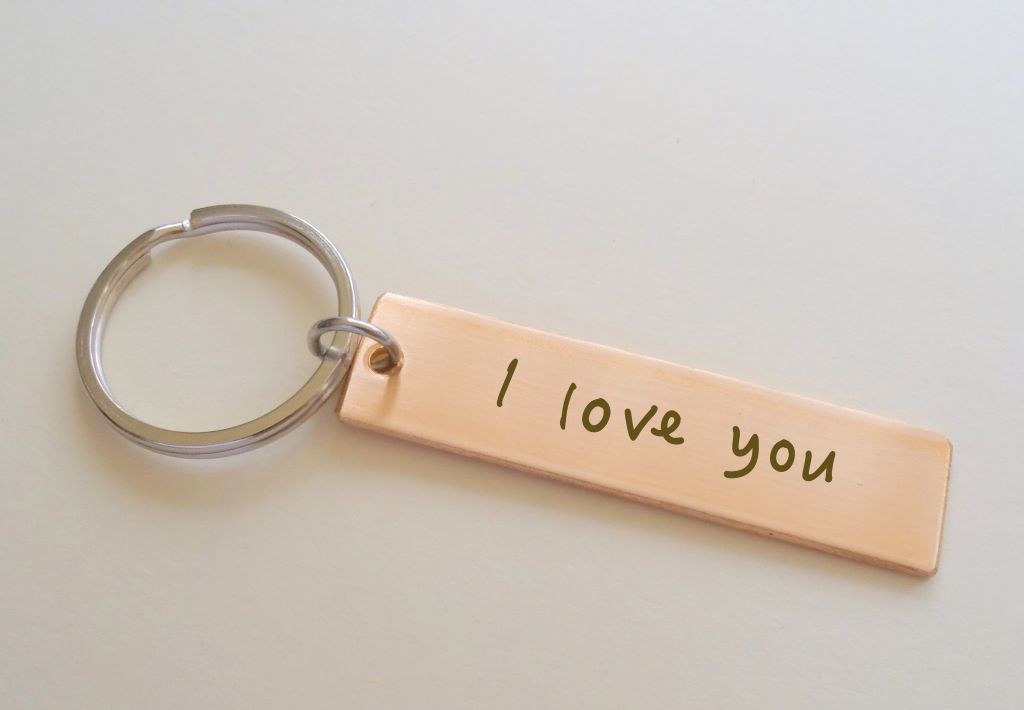 Bronze is a hard and durable metal. The discovery of bronze not only gave our ancestors the chance to build new tools. It also allowed them to make bronze artifacts that symbolized their status.
This is why for the bronze anniversary I chose a bronze keychain. This keychain is a tiny artifact that can hold something very important. You can engrave it with your chosen message. But that's not all, the best part is the chance to engrave your handwritten message. This gives your keychain a special meaning. Just add an image of your text and you got a completely personalized anniversary gift. It is a precious item meant to be carried by him or her everywhere.
Summary
The traditional anniversary names today are not only symbols of a wedding day. They are used to celebrate an important date of any relationship. This list will make choosing a personalized anniversary gift easier and connect your present with the tradition of anniversary names. It can be the beginning of your own tradition and a sign of your relationship's longevity.
Image credit: worldofweirdthings.com