Do you remember Christmas as a child? The excitement leading up to holidays? Not being able to sleep, listening for Santa's sleights and footsteps on Christmas night. As a kid believing in the Christmas miracle, makes this celebration more special. Seeing their faces when opening the gifts is what the trouble of Christmas shopping is all worth. That is why we have prepared a list of some thoughtful, personalized Christmas gifts for kids to make this holiday even more memorable for your children.
1. Personalized nightlight for kids
Kids often like to fall asleep with a nightlight, this personalized cube lamp has the most perfect lighting for a nightlight. It also makes a bedroom cozier and homier. The best part is that you can personalize it creating one of a kind lamp just for your kid! What do they enjoy? Think of their favorite movies, cartoons, animals, idols! On the other hand, you could create a photo collage with your favorite memories together. What could be better – falling asleep whilst looking at photos of something or someone you love?! The personalization is quick and easy – you can do it online by yourself.
2. The classic personalized gift idea for kids
"Build a bear" is such a classic yet always appreciated gift for the little ones in your family! You could get a gift card and let the kids create their own teddy bears or you could design the bear for them. Whatever you decide, I can guarantee a high level of excitement! Choosing an outfit, getting accessories, creating a voice- make this experience meaningful. And you do not have to visit the shop, kids can make them online. It makes the kid feel important, they get to decide, make their own decisions, that is why it might easily become their new favorite toy!
3. Photographer kit (personalized album + disposable camera)
This one goes to the little photographers in the family! You can order a really nice personalized photo album for their photos or make your own by personalizing it with stickers, rhinestones. You could make this a Christmas activity – scrapbooking together. Add a disposable camera to the gift, remember the little cameras used in the 90s? They are back! And they would be perfect to complete this gift! Let your kid take photos on their new disposable cameras. Who knows? They might turn out the most natural and best pictures from this Holiday season. You could even use one for your next year's Christmas card!
4. The dream personalized Christmas gift for kids
Imagine waking up as a kid and seeing a built tent (teepee) with your name printed on it by the Christmas tree. It is every kids' dream! Kids usually like to build forts and dens. This tent not only looks good and can serve as a décor for your kids' bedroom, but you will also not have to worry about the huge mess children create when building forts. Because there always will be one ready to be used! This Christmas gift for kids can be bought personalized online or you can try to DIY it, there are many tutorials on YouTube and Pinterest to help you and get inspiration from.
5. Customized Christmas puzzles for kids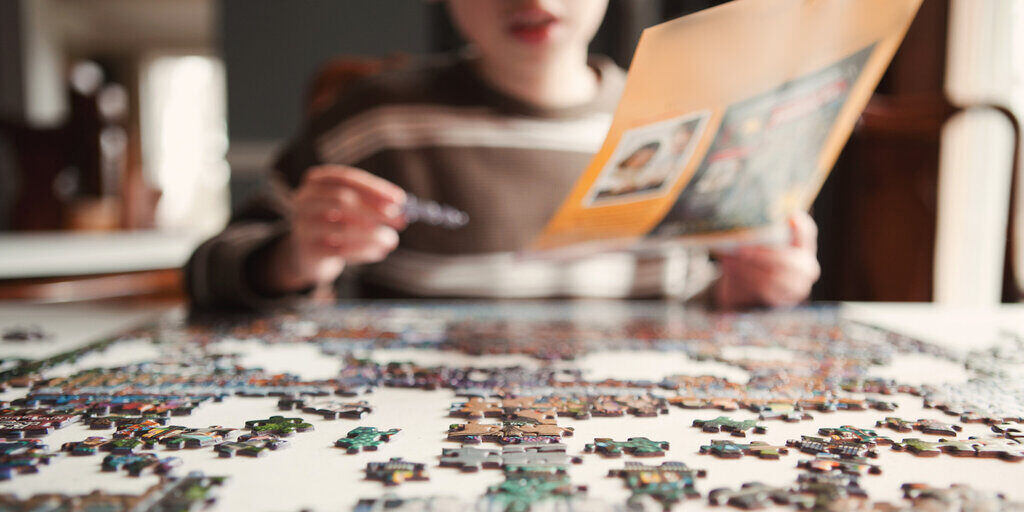 The following personalized Christmas gift idea for kids has been a top activity to do with the family during the covid-19 lockdown. Doing puzzles is not only a fun way to pass time, it is also beneficial for children's development. It improves their memory, problem-solving skills, and increases their IQ level. Once again, it is something you as an adult can also enjoy! It is an awesome activity to do when it is raining outside or you have to spend time indoors. There are so many different personalized puzzles available, even for toddlers and teens.
6. Personalized book subscription for kids
The next incredible gift idea we have for you is a book subscription! Pick a personalized book subscription as a Christmas gift for your kids this year. You can either handpick the books or just answer questions related to their book preferences. Or there are pre-made sets. How does this work? You select, they pack it nicely and they ship it to the given address every month. It is easy, yet really thoughtful! And you will have a new bedtime story to read every month. Think of the books you enjoyed as a kid, pick the classics, or be surprised each month when the book arrives. It is like extending Christmas! This gift also works for older children who are into reading!
7. Personalized Christmas gift designed by kids
Ask your kids to draw what they want for Christmas and make their drawing come to life! This also works if your kids have requested something so specific you can't find it in a store, for example, a cat with a mermaid tail. Kids are so full of creativity; their design would make such a unique gift! In a way, you make someone's Christmas a dream come true! It is definitely one of the most unique personalized Christmas gifts for kids out there!
8. Personalized photo games for learning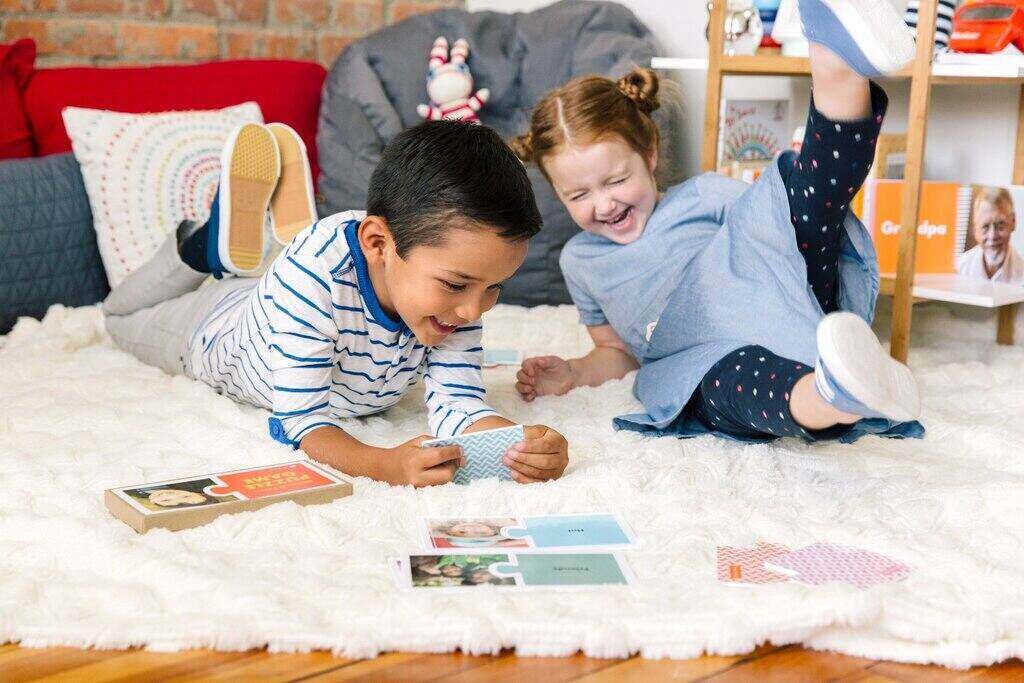 Did you know that there are personalized games? These days, when technologies have become such a big part of our lives, it is necessary to show kids other ways to have a great time! Make custom memory games with funny pictures of family members, it will only make it more fun to play. There are puzzle games to help with their reading and other games. After all, learning is the most enjoyable whilst playing games. This would be a great personalized Christmas gift for kids!
9. Soft and personalized baby play mats
The following gift idea is for the littlest ones! A playmat for babies is something that comes in very handy, it is considered as one of the essentials for baby supplies. It is soft, helps their visual, cognitive, and gross motor development. Other benefits are that it's easily washable and easy to carry around. Get them personalized even if it is just their name embroidered. Playmats can be an awesome Christmas gift idea for older kids too. They are great for playrooms. It comes as a puzzle, so it's also fun to put together and can be customized.
10. Personalized costume ideas for kids
What do your kids want to be when they grow up? A chef, policeman, doctor, scientist, artist, hairdresser, shop assistant? Make their own personalized costumes with their name tags printed on! Kids love to play make belief! The name printed on will make the game feel more real for the kids. Encourage them to be and do what they want!
Summary
Christmas is one of the most awaited holidays for kids! As a parent you want the gifts to be thoughtful, yet something that they would really enjoy and use. Here you will find a list of 10 personalized Christmas gifts for kids in every age category.