Are you looking for a way to spice up your branding strategy? Have you run out of ideas? I suggest looking into purchasing a branded cube, which is not only a décor and a lamp but also a new and unique way to engage with and get noticed by your customers. There really are several ways you can utilize it, for example, it's a way to showcase your new product or video advertisement using a QR code, a logo, slogan or maybe even creating a mix of all previously mentioned methods. The branded cube is the answer you are looking for!
Placing your new product on your branded cube
Firstly, your branded cube can be completely customized, think of every detail – what is the design you are going for, what colors are you going to use, is it going to draw attention? If you have a new product on its way out or possibly is already out and available to buy, a cube lamp  is an innovative and unusual way to show it to your loyal customer base or even new customers. You can put it in your shop, office building, client waiting area, café, bar or anywhere else your clients are! To be noticeable, use more than just one branded cube lamp, be creative, be imaginative. You can hang them in different locations, stack them up or simply leave them on a shelf.  And in case you are looking for ways to use it online during a conference, seminar, podcast or even merchandise read this blog post.
The new ''big'' thing
Today, when augmented reality is becoming a huge thing and when it's becoming a part of our daily lives, many brands are trying it out as a new marketing tool. One of the most common and easiest ways to use it is by creating a QR (Quick Response) code. I'm sure most of you are familiar with QR codes and how they work but generally it's a code you scan with a phone's camera and then it leads you to a webpage, app or shows you any other relevant information. Here's an idea – put it nearby your store/office/cafe/ service, the branded cube could give directions to your business by just scanning it. Another idea – put a video advertisement or poster which can be accessed when scanning the cube. Put a ''Scan me" sign near it or on the cube! Choose the background color, carefully choose the idea or message you want to give when the cube has been scanned. It has to be useful for the customer.
Lit up logo
This is the easiest and simplest approach to designing your branded cube lamp. Imagine lighting your logo, imagine how much more different it would look. Of course, in a positive way. This is the right move to make if you want to jazz up your already existing logo or in case you are in the middle of rebranding and redesigning your logo. Either way, isn't lighting up your logo the best approach for introducing your brand and being noticed? Did you know that there is an 80% increase in brand recognition with a colored logo design? Envision it lit up! It's just as easy as it sounds and an added bonus – it's affordable so a great way to promote your brand also for startups.
Branded cube with slogan
Does your brand have a nice, catchy, yet powerful slogan? It deserves to be displayed with a branded cube. Slogans really are one of the most effective ways to attract and draw attention to your business, whether you sell products or service. After all, slogans are one of the key elements of brand identity. The right slogan has to stand out, it has to be associated with positive feelings. Placing it on a branded cube lamp might be just what you need to highlight your slogan.
The mixed branded cube lamp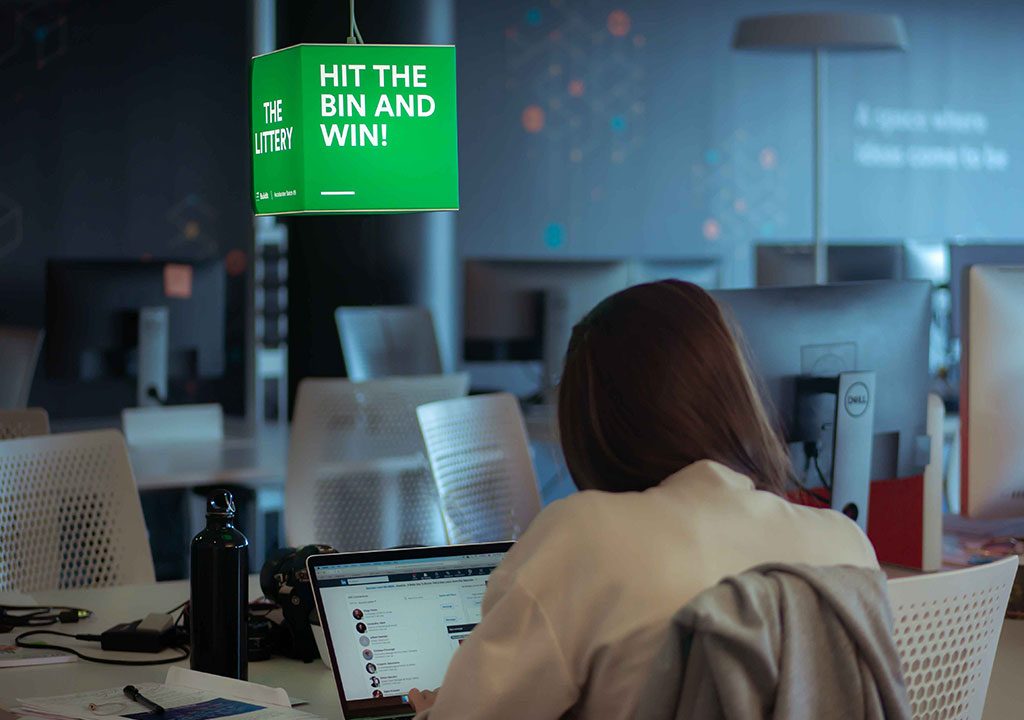 Last but definitely not least, I'm suggesting a mixed branded cube. Meaning a mix of everything previously mentioned – logo, slogan, QR code. Afterall a cube has more than just one side. Why don't you create something different on each side? This way you can rotate it, for example, place side A for a month, place side B for another month. This way you will not have to purchase multiple ones. You have the opportunity to completely customize it yourself. You can upload images, set background colors, add texts. Each of the 6 sides of the cube can be personalized totally differently.
Summary
By reading this blog post you can get a sense of various possibilities to utilize your branded cube. Choose one of the previously mentioned – logo, slogan, QR code or augmented reality or a mix of everything to increase brand recognition, be noticed, be remembered!