Set the right mood or add a touch of uniqueness!
Know your stars constellation lamp
€ 68
View image gallery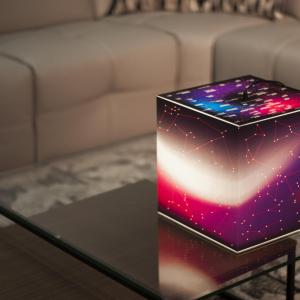 The KNOW YOUR STARS constellation lamp will not only give you illumination, but also teach you the constellations. This lamp has the constellations labelled on its top surface, whereas the sides and bottom areas are decorated with large representations of them, so you will never get lost in the endless night sky.
What do you get
UNIQCUBE light cube features
Helps to learn star constellations
Relaxing ambient lighting
Unique high resolution artwork
Thin, flexible and resilient material
Can sit on any side except the cord side
Can be placed on any surface or used as a hanging lamp
Waterproof print, easy to clean with water
What a beautiful starry night! Nowadays this phenomenon can be observed only in a countryside. As more and more people live in urban locations they feel disconnected from the natural world; this constellation lamp was designed to change this bringing the whole universe of stars to your home.
KNOW YOUR STARS is perfect for star lovers, it provides relaxing ambient lighting and it will add uniqueness bits to any room.
Other light cubes
You might want to take a look at these ambient light babies
Didn't find the one and only you were looking for?