With the pandemic gradually slowing its pace and the world adapting to the change, lots of enterprises are opening their doors again. Welcoming your customers back after such a long break is very exciting, but it may also be overwhelming with so many businesses fighting for clients' attention all at once. We've gathered some ideas on how to use our branded lamp to stand out from the crowd in different settings. Think of this article as an idea hub to inspire you and let your creativity flow!
Performers
Musicians, actors, dancers, we're all pumped up to finally get back to performing. The adrenaline rush you get before and the deep satisfaction after is what we missed the most, but it wouldn't be possible without the audience. They're the ones screaming the lyrics at the top of their lungs when we forget them and cheering us up when we fail a particularly challenging dance move. Reconnecting with your fans may seem like a tough task, but your branded lamp can be of help on this one!
First on the list, live shows are finally making a comeback, so what better way to welcome your loyal fans and find the new ones than putting your branded lamp on stage while DJing, showing magic tricks or dancing. Customize your cube and include your logo, album cover or even the fanart to bond with your audience!
You can go a step further and sell your custom design light boxes as merchandise after the show! This way your fans can have a material object to come back to the moment you've shared together long after.
Branded lamp is perfect for busking and outdoor performances too! The materials we use make the cube lightweight, so it's easy to transport and it will definitely make you shine the brightest at night. Don't forget to put your social media handles on one of the sides! If you're still wary of going outside or prefer online performances altogether, put the light box in the frame when streaming or recording a video. It's great for creating the ambiance and making your performance feel more tangible no matter where you are. Promote your social media, new release, or crowdfunding campaign by placing the call to action on the cube.
Live Venues and Events
Theaters, arenas, and cinemas all had to close their doors and bear with the silence of empty halls. Even though certain restrictions are still in place, many venues resume their work, offering an escape from the routine. To maximize the anticipation of your guests before the event, here are some fun ideas to try out!
Make your own hall of fame by placing the lamps with the names and photos of the artists who performed at your venue. Not only will your visitors have something to explore while waiting in line, it may also attract new performers!
After almost 2 years of being stuck at home, your guests are bound to feel a bit lost, which can take away from the otherwise pleasant experience. Help them out by using customized light cubes to mark directions or the rows in the audience.
Branded lamps make magnificent decorations for the outdoors venues and festivals providing ambient lighting and endless placement possibilities. Place the light box onstage to softly lighten-up the space and create a perfect atmosphere for an acoustic show or medieval poetry reading. You could even try building a light sculpture out of them!
Cafes and restaurants
Oh, how I miss cozy chats with my friends at our local cafe! The aromas of freshly brewed coffee and pastries, and the warmth you feel both inside and out while sipping your fancy drink and chewing on soft buttery croissants… While delicious food is already a great motivator, here are some additional ways to encourage your customers to get out of the house!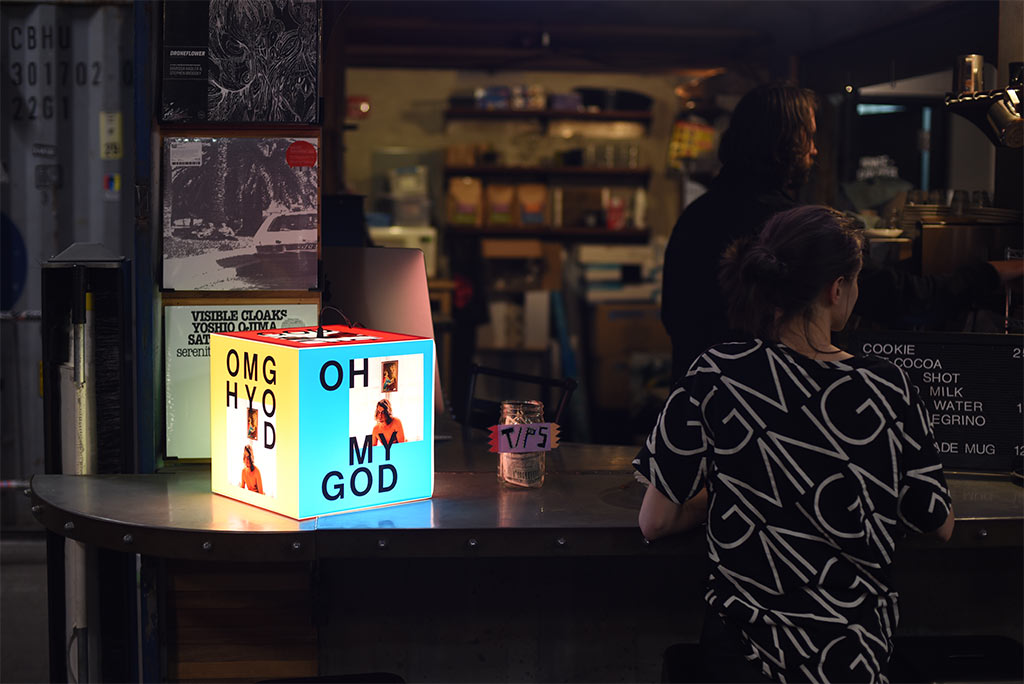 Customize branded lamps to fit your restaurant's design and put them on or above the tables. Experiment with the placement, use a colored or color-changing light bulb to create the ambience in your own way, be it a traditional Japanese bar or an alien rave party.
Make a cafe or street food stall more interactive by customizing your branded lamp and using it as a menu. Just put the list of the foods you offer on the sides of the light box. It also makes for a fun open/closed sign!
Want to build some buzz on the internet? Create an Instagram worthy photo zone using both light cubes and other decor to get those social media posts going! Don't forget to include your profile on the lamp and ask your customers to tag you.
Museums, art galleries and studios
Not all of us live in a dream and that's okay as long as we have places like museums and art studios to contemplate the beauty of the world. Personalize your branded lamps and create a sublime atmosphere for your visitors to enjoy.
All the hallways may be confusing, so mark and separate different sections of your space by placing the light boxes around and use names of the exhibitions on the sides. Or hang the cubes near the art objects and include interesting facts about them on each side.
Turn the main lights off and make a pathway by placing the cubes on the floor or leave only one cube in the middle of the room to change up the feel of the space. You can even make the lamps a part of the exposition! Let the light transform your paintings or photos by placing them on the cube. Using optical illusion or 3D images will leave your visitors feeling like they're part of the paintings themselves.
Offices and shops
Going back to work may seem a disaster, but at least there's no awkward relative walk-ins in the middle of a meeting, right? Use these tips to welcome employees and customers alike.
Representing your business at an exhibition or opening a pop-up store, branded lamps will catch the attention instantly and lead your potential customers straight to you. Personalize them and place your logo, contacts, or pictures of best-selling products on the sides!
Working in a busy environment? Hang the cubes with your logo in the meeting rooms and use color-changing bulbs to indicate if there's a meeting in progress. Or place them in the cosiest nook of your office for your employees to enjoy relaxing breaks.
Place QR codes with the links to your website on the side of your branded lamp to let the customers quickly access all the important info and explore your product themselves. Light boxes are also great to hang above as pointers to different parts of your store like cash desks or fitting rooms.
Conclusion
Customized light boxes offer endless opportunities to level up your branding and stand out from the crowd. Versatile and easy to transport, they're suitable for both independent entrepreneurs and companies. Try out one of the ideas from above or create your own and tell us what you think!
Image credits: Gudella/Deposit Photos