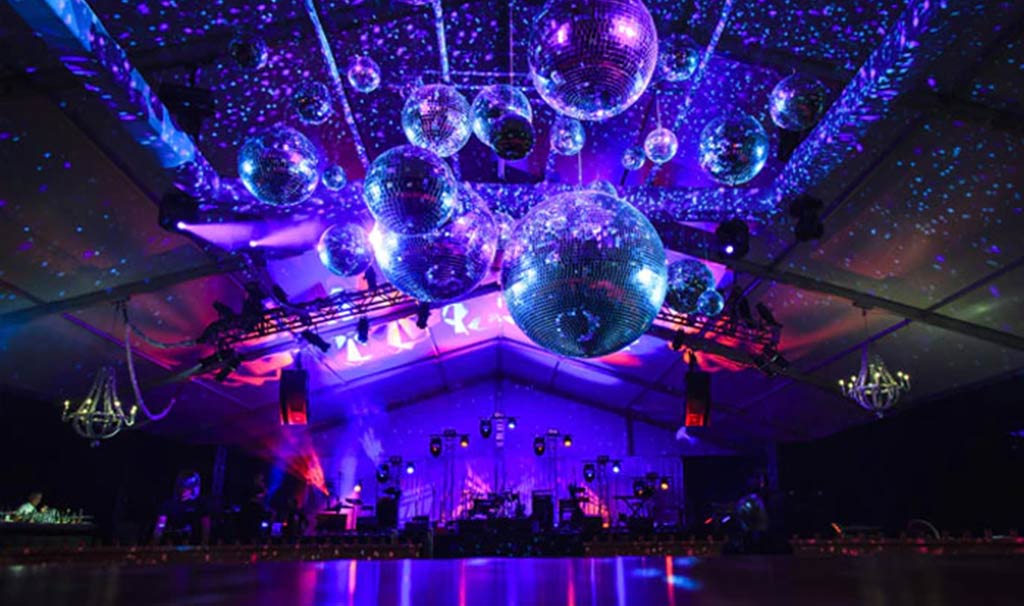 Who said that music can't be connected with visual effects? DJ lights are variation of stage lighting that is gaining popularity between mobile DJs and nightclubs all over the world to make the event more exciting and visually appealing. They vary in size, options, functions, price, as well in the ambiance that they create around the DJ set. As technology evolves so do the options of DJ lights in 2021. If you are wondering which DJ light fits your needs the best, then keep on reading!
Wall Lights
Wall lights are usually lights that are installed to a wall to take up the empty space behind the DJ set but they can be used throughout the nightclub as well. To add to the ambiance DJ wall lights can be a useful tool. The best thing about wall lights is that they are eye-catching and can vary both in design and use. For example, it is possible to set up round light wall in the background behind the DJ set for a more intense mood. Or if you are looking for a more modern and futuristic wall light, you can use equalizer wall lights that are not only impressive in size but also offer the color and light effects. Equalizer lights can be programmed to display different color combinations, change the height of the equalizer spikes, and the rhythm can be adjusted to suit the song that you will be playing.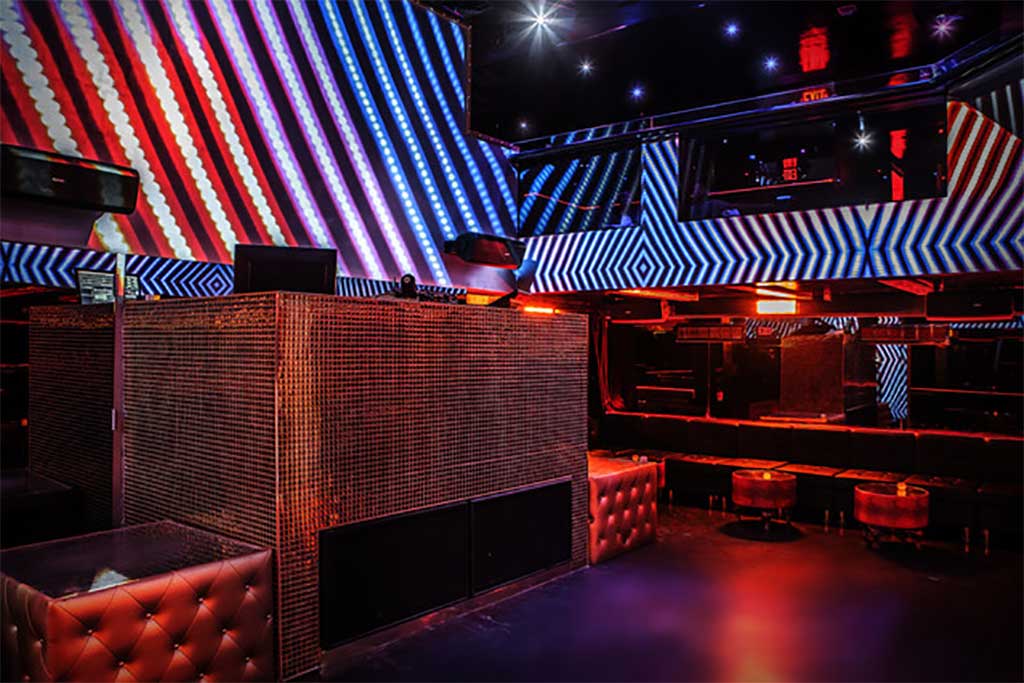 Laser DJ Light
DJ laser light is a lighting device that is suitable for DJs on the go because of the fact that they are easy to use, compact and portable. The main use for laser DJ lights is the ability to project either single or multi-color light beams and other light effects to fill the room and create a lively impression. Laser DJ light can be projected on walls, ceilings or the dance floor, and to make even more interesting effects laser DJ lights can be used in conjunction with mirrors to make the venue feel surrealistic and futuristic. These lights can be controlled through a laptop which allows the DJ to set the intensity and colors of the laser DJ light. However, it should be noted that if you are looking to create a colorful atmosphere, you have to install multiple laser heads to create the color combination that you desire to achieve. Also, it is best to direct the laser lights in a way that they don't hurt the audience's eyes. If you are looking to create a dynamic, futuristic and exciting DJ show, laser DJ light could be a very useful lighting tool in your kit.
DJ Light Cube
For DJs, especially mobile DJs that are just starting out, having the ability to both create an exciting atmosphere and brand themselves is at most importance. In that case DJ light cube might be just what you are looking for. They are easy to set up, inexpensive compared to other light and promotion options, allow the freedom to design the light cube in a way that you prefer! For example, Uniqcube light cubes are used by many DJs all over the world to ensure not only a light effect near their DJ set but also use the DJ light cube to brand, position and advertise themselves while performing. One of the coolest options is the custom-made light cube with color changing lights. If you decide to design the light cube with your own logo then the ability to install different color light bulbs will create a visually pleasing and unique branding tool. This allows people to familiarize themselves with you as a DJ and your brand, and you get to spend more time focusing on music. If you want to amp up your DJ game then a DJ light cube might be what you need – it is a budget friendly option that allows you to differentiate your brand and stand out, as well as attract a loyal fanbase!
Moonflower (Gobo) Lights
Moonflower lights are in essence lights that produce patterns through a lens. These lights are versatile because they can be used as a Gobo light to project a logo by using a stencil in front of the projector or they can be used to produce different patterns such as the popular moon flower pattern. Gobo light means that you will need to create a stencil of the desired text, your logo or an image that will be placed inside of the projector. Then the light will shine through the stencil and project the text or image on a wall or floor of your choice. Moonflower lights are all about creating emotion and good feelings in people. Moonflower lights can be installed as a wall light behind the DJ set which allows them to evoke strong, positive emotion with light and create a new dimension and look behind the DJ set. Usually moonflower lights can be bought in modules that can be rearranged because of the magnetic cap that allows you to position and change them as you wish. Moonflower lights definitely will help to create a beautiful, sophisticated event thanks to their ability to evoke emotion and play with light effects.
Party Disco Light
If you are going to DJ in a smaller venue or you will be making sure that people are having a great time in a disco themed party, then party disco light could be the best choice. Disco Lights have followed the trends and development of technology allowing DJs to purchase electronic party disco lights as well. That means they can be switched on and off with a remote, so can be the color intensity, tone and flash pattern. One of the reasons why party disco lights create a fun atmosphere is due to the fact that majority of them can rotate, which means the light projections will change constantly and create an exciting and interesting show. Party disco lights are great if you want to make a room colorful and fun in a heartbeat! They can also be used to set a more romantic mood for slow-dancing, especially if you use silver, pink or purple tones. Plus, they are easy to install and use that will save you some time when setting up the DJ set and other lights. So, if a disco themed event is coming up soon make sure that you own at least one party disco light to ensure that the dance floor crowded with happy dancers and the room is filled with colorful, flashing disco lights.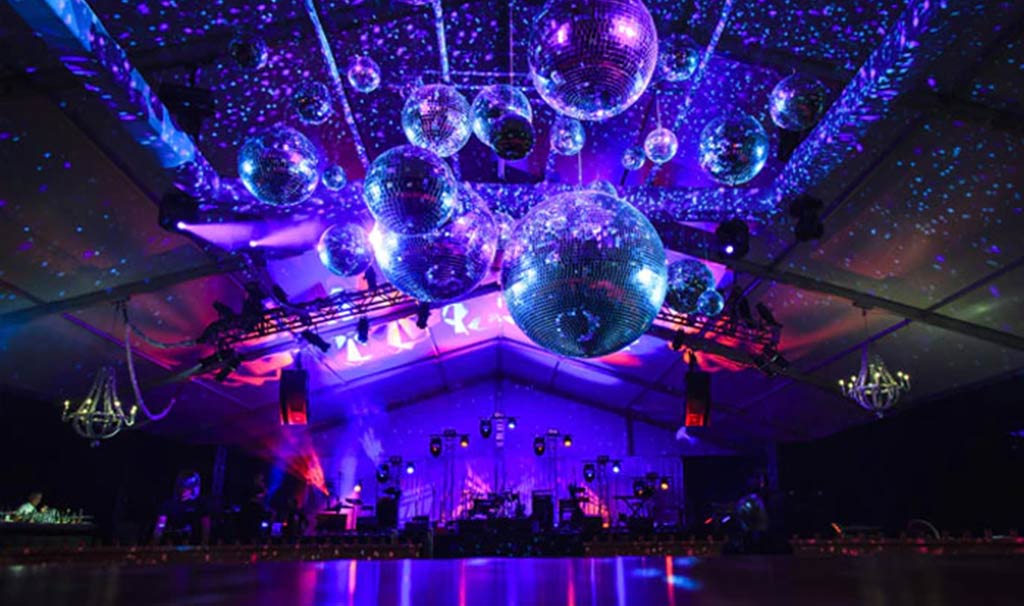 UV DJ Light
Did you know that you don't have to limit yourself to the colors that are visible to human eyes? Well now you know! UV lights or black lights are light fixtures that produce fluorescent light effects. These lights are commonly used between mobile DJs and in nightclubs. UV lights come in various sizes and versions, e.g., bars, panels and LED pars. These lights are a go-to if you have a themed party to host in a nightclub. If all guests wear white clothing or at least white T-shirts, then these UV lights will help to create an amazing atmosphere because of the way that the white clothing will stand out underneath the UV lights. And don't forget that guests can use UV reflective face paint and clothing paint to make their outfit and look more customized and creative. Talk about a fun party to DJ at!
LED Displays
Another great option to decorate the wall behind or around the DJ set is to use LED displays. They usually come in various sizes as a rectangle, but it is also possible to order custom LED displays in triangle or circle shapes. LED displays are screens that allow the DJ to display any type of a visual content they want – be it a video, pictures, words, lyrics, or their logo! Of course, this implies that you will have to spend more time creating the visual materials, however, people usually appreciate having colorful, exciting videos of color splashes, galaxy swirls or neon music notes displaying on the LED screen. While these lights are not the easiest to travel with, the visual impact that you can create by using LED displays is well worth it!
Summary
These were the trendiest and most interesting DJ light options for DJs in 2021. As you can see there is no one superior DJ light that triumphs other light options, however, you can find one that fits your needs, budget and venue! We also recommend not to limit yourself and use more than one DJ light element for a bigger presence and impact. The ability to carry most of the lights with you if you are a mobile DJ is also a plus, and having different types of light patterns, colors and dynamics will help you to achieve your dream result and add an exciting visual element to the music that you are playing! Which DJ light is your favorite?