Lighting plays an important role in any DJ show because except for your amazing line-up, that's a major aspect of what gets the crowd in the mood! Without appealing lights, your show might feel a bit… boring. Also – it's important to focus on how the audience sees too, because if you are sitting in the dark for the whole night, how will they know who is this amazing DJ?! Of course, if you are a beginner or simply on a budget, it might be difficult to find cheap DJ lights that are also of good quality. On this list, you will find cheap DJ lights that will work as great decor for your table and create a good atmosphere for your audience. Professional DJ lighting is usually very expensive, so this list includes cheap DJ lights that are great for the DJs that don't want to spend hundreds of dollars on lighting equipment.
Cube light from Uniqcube – 98$
This branded cube light from Uniqcube is a great tool for your DJ set. You can design all 6 sides of it to promote yourself, and it just as well attracts your audience with the colorful and flashing lights. If you are looking for cheap DJ lights for branding, then this is a quality choice – design it with your name, socials, or logos! And when not on a live set with an actual audience, you can use it during livestreams when you do your shows online! This cube light will give your DJ table an original and professional look.
Laser lights – 96$
This list of cheap DJ lights wouldn't be complete without a laser light. This is a more professional but still affordable option – you can transform the whole space with these strobe laser lights. This is a great investment because you can choose the modes for each type of your DJ gig – for a wedding – something a bit more mellow and calm, for a birthday party – something a bit more bright and lively.
Letter lightbox – 42$
If you mainly do small gigs but still want to make some statement with your lights to promote your brand, this letter lightbox is a pretty good and affordable way to bedazzle your table. The opportunities with this are sort of endless – state your name, your brand, socials, or maybe a funny joke or a greeting depending on the public. This will give your DJ table that vintage vibe – the frame is illuminated by a stylish set of little light bulbs that remind you of an old-school movie billboard.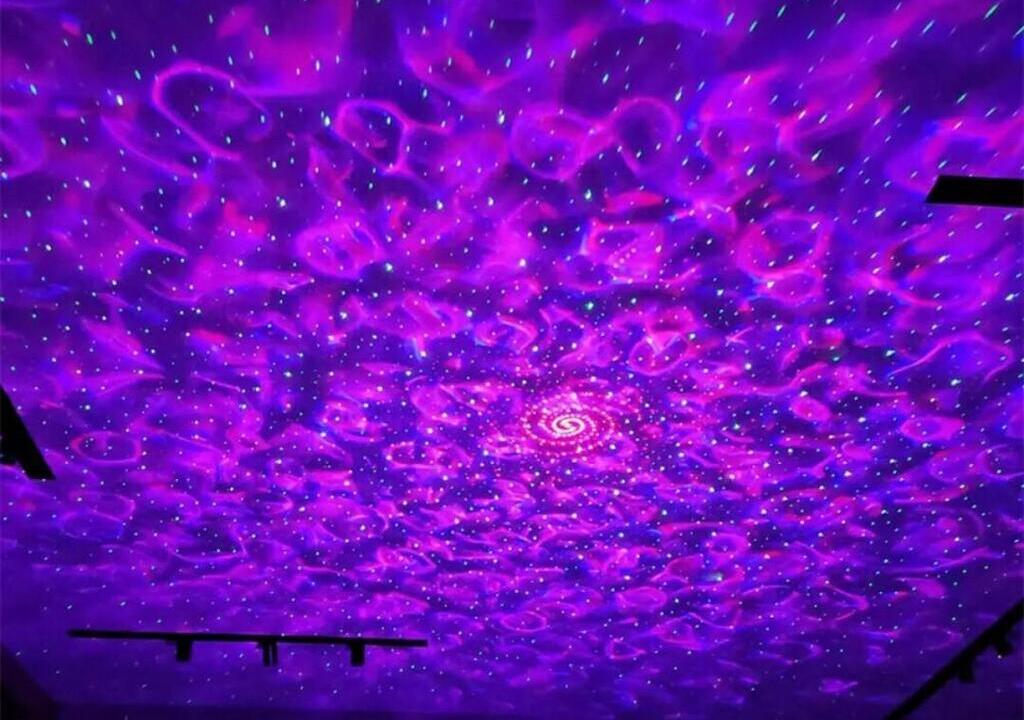 Star projector – 32$
If your type of DJ set is something more spiritual and ambient, this star projector might be for you. For more mellow and calm sets, this is a great way to give the room a dreamy and magical atmosphere. But mix these with some flashing lights and they will complement each other greatly and create a beautiful combination.
LED strip lights – 31$
LED strip lights have been growing in popularity and this trendy lighting is a great way to decorate your DJ booth! These are so easy to control – just download an app on your phone. They are great because they have the "sync to music" function – which is great for crazy and rhythmic DJ sets. The rainbow effect will boost the mood of the room in seconds and the crowd will thank you!
Letter lights – 18$
This is the simplest and the most elegant type of light – it's just letters! It is easy to work with these letter lights because you can order any type of letters you want and create whatever! 3 letters cost about 18 dollars, or you can get the whole alphabet! This type of lamp has a bit of a softer atmosphere to them, so you might want to mix them up with something flashing for some more edge. These are flawless for wedding gigs, though.
Neon table light – 15$
Neon lights are a timeless classic – choose from these ready-made designs or customize your own! These bright and vivid lights always are an eye-catching element of any room you step in. A neon light will bring an edgy and a quirky atmosphere to your DJ table! And it's worth mentioning that they are more eco-friendly than lights with basic light bulbs, so that's another budget-friendly aspect!
Disco ball light – 9$
Honestly, this is the best place to start if you need DJ lights but are on a budget. This disco ball is a very budget-friendly and affordable light. It's ideal for small gigs with not super huge crowds, and also it's small and very easily portable. To get the full effect, you can use a couple of them on each side of your table! These lights rotate on their own, so you don't have to worry and can focus on your set.
Cheap DJ lights – the most affordable way to spruce up your DJ table on a budget!
Looking up professional DJ light prices in the search bar might be heart-wrenching. These high-quality and huge lasers are a biiiig investment, which could be a bit of a problem for someone who is on a budget. Yes, lights are important, but you shouldn't waste all of your money just for that one crazy big strobe light that a very popular DJ recommended in their IG sponsored post. Start small – cheap DJ lights don't mean that they are of low quality. Mix and match different types of cheaper lighting, for example, take this cheap DJ light from Uniqcube for your branding on your table, and a disco rotating ball to treat your audience. Take note, that these smaller types of lights are more original and quirky, which gives a lot more character for your DJ booth.
Image credit: pexels.com, amazon.com, lightinthebox.com, joom.com, miniinthebox.com, coolgift.com