Without hard work and dedication, it is not really possible to succeed. When you are on your path to becoming a promising YouTuber, there are some key components of success that must be taken into account. Branding is one of the first steps to consider as you build your YouTube gaming empire of thousands and millions of subscribers.
It is true that throughout the whole YouTube video the gameplay itself will take most of the screen, leaving just a little space for the recording of your face. Although you might be including parts without the gameplay, you've yet to learn how to beneficially use these recordings of your face. Below you will find some powerful ways on how to do branding and grow your channel as a Youtube gamer.
Why YouTube branding matters?
Telling you that branding is important in order to succeed is just too broad. The definition of success is wide-ranging, and the term can have different meanings for everyone. Goals to achieve success can vary per person. For some YouTubers, it will be the number of subscribers that determines success, and meanwhile, for others it's income.
So why exactly is it important?
According to YouTube Creator Academy, branding is what establishes your channel's identity and the way others perceive it. Branding can attract viewers, or scare them away… In any case, you should spend hours or even days working on branding your YouTube channel.
The YouTube core essentials
Before moving on to a more serious part you have to take care of the most important things. As any other YouTuber, you have to take the very first steps to create the environment of your channel.
First of all, ensure that the content you produce is of an excellent quality. Secondly, be consistent about posting videos.
Furthermore, come up with some catchphrases similar to PewDiePie's "Stay awesome, bros!". Put some work into your video intro and outro. And maybe watch other YouTubers to get inspiration when you lack some.
YouTube Channel Art
YouTube channel art, which is also called "Youtube Banner" or "Channel Header Image", is a banner that goes at the top of your channel page. It is probably one of the foremost elements to create for your channel.
Usually, it is the first thing people see when they visit your page as the major part of your subscribers will come exactly from the homepage. Overall the channel homepage is the starting point of growth and success. For this reason, it has to represent your channel and the content you make. So… make it a reflection of you! Of course, you can put anything you want on it, but it will result in a stronger first impression if you are able to make associations with the content you produce.
Let's say you only play mid-lane in League of Legends. In this case, you could create a banner and put Zed, Ekko, or other champions on it. GrayStillPlays, who is a YouTube gamer that plays different games but mostly The Sims 4, has made characters that he uses in every video. Now Spleens the Cat and Florida Man have become the symbols of his channel. These two popular sims are so popular that GrayStillPlays has decided to put them on his banner, therefore making it easier for a new channel visitor to create associations.
Channel trailer
Another thing to think about is a channel trailer. Just like a YouTube banner, it will go on your channel page and perhaps be one of the first things viewers will see. It is an opportunity to show the value your channel can bring to subscribers.
Your channel trailer should be similar to a movie trailer. Tell the viewers about the channel and show your personality. You can also use it to invite people to subscribe to you at the end of it.
The best technique is to grab the attention of the viewer in the first seconds of the trailer. Start it with something that will make them want to watch it till the end. Then, you can highlight the best parts.
Here are some suggestions for when you are making the trailer. First of all, assume that the people who will be watching it have never heard about you, so you should introduce them to your content and tell them why exactly they should press the subscribe button. Also, you should keep the trailer short. I know, you won't have much time to pitch all the great things about yourself…Just stick to the most important parts and you'll do great! And finally, as I mentioned before, ask viewers to subscribe!
Thumbnails
Thumbnails are the first thing viewers will see when they happen to find your video anywhere else but your channel page. They MUST be eye-catching! 90% of the best-performing videos on YouTube have custom thumbnails.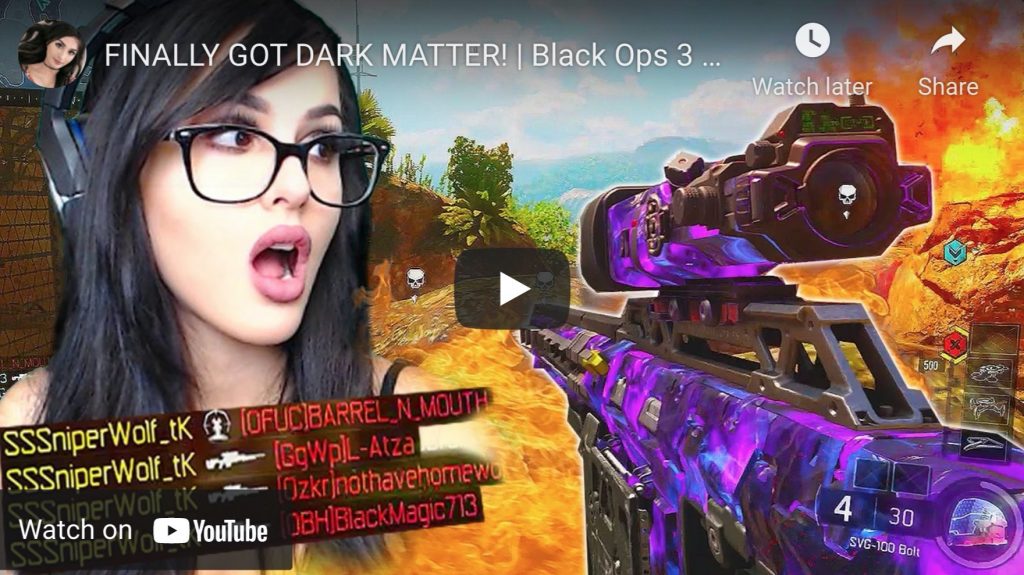 For example, SSSniperWolf, who is the most successful YouTube female gamer, composes interesting and dynamic images that are overlaid with branding and descriptive text.
Playlists
Another little detail that can make a change is the playlists of your videos. They can help a potential subscriber to understand the types of videos on your channel and if there is something for them without even watching anything.
You can make three, four, or as many playlist categories as you want. For example, make categories of games that you play in your videos. PewDiePie has played soooo many games throughout the 10 years he's been active on YouTube that his subscribers really need playlists to get an overview of the content on his channel. He has playlists with gameplay on such games as Among Us, Resident Evil 7, GTA V, and so on.
Besides, creating playlists doesn't require much work. Just group already existing videos on your channel and give them a name that represents them well.
The Subtle Background Magic
There are many ways to brand your gaming channel. Some basic things to do are using thumbnails and designing an epic channel page, but, it might not be enough.
While your potential subscribers are enjoying the gameplay content you have created, there is nothing much that would help you do the branding… Most likely there is only the recording of your face, and the computer screen. You might sometimes show your face on the big screen, but we all know, usually, it is a little rectangle somewhere in the corner.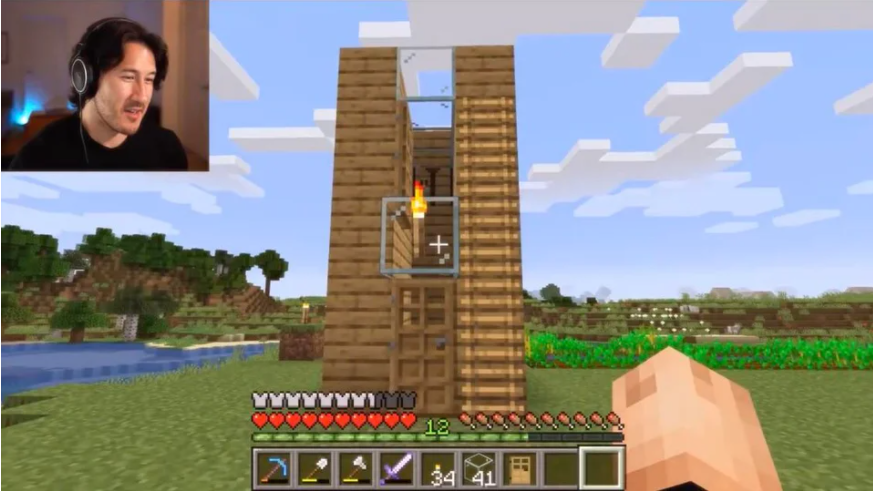 BUT…did you know that people pay attention to all the things you have in your background? Not just when your face on the whole screen is staring back at them, but also that little corner where you place yourself!!!
It doesn't matter if you are recording a tutorial on how to make a Nether portal in Minecraft, or just showing off your CSGO aiming skills. You and your environment will get some attention.
Why not take advantage of it? Here are some objects to place in the background.
Branding in your background
Apart from other branding ways, there aren't many options on how to do it within the video. While focusing on what is in the background might seem insignificant it can actually do a lot of work. What if you think about it as a stage? Just create your little action corner by placing different things behind you!
Branded Merchandise
The easiest branding method is using your own merchandise. In case you have t-shirts that are also for sale, having it in the video could also do some marketing for the product. It's that simple!
Let's take Ninja as an example! In some videos, he has done a great job on the background setup. He has a huge logo in the background and a logo on his chair. Besides, he is wearing t-shirts and sweaters with his name or logo on it. Meanwhile, fans can buy his merchandise with the same popular logo of his.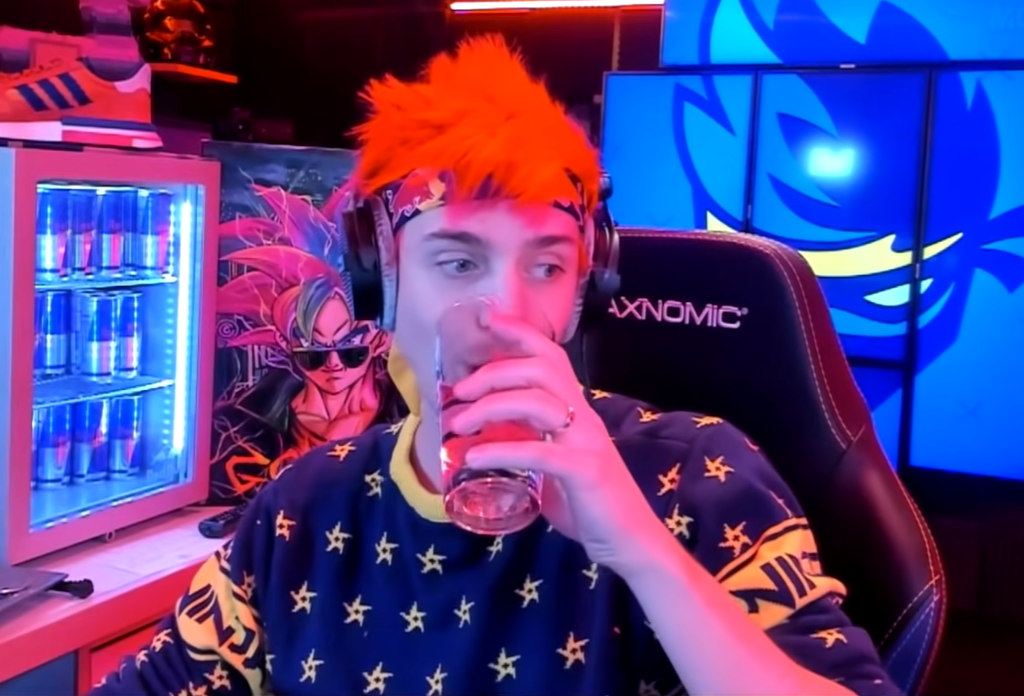 Design choices are unlimited. Ranging from logos, channel, or real names, faces, and pictures to custom designs. In fact, the most used design includes quotes from YouTubers. 37% of the best YouTubers put their quotes or catchphrases on their merchandise. Be creative!
Lightbox
In case you want to try a unique YouTube branding approach, here is an original idea. It is a branded light box. Create it and just put it in the background. It will do the rest for you!
You have probably seen other YouTube gamers using neon lights or some other lighting objects that, honestly, only serve the purpose of creating a nice atmosphere…Meanwhile, a customized light cube will do both – create ambient lighting and do the branding throughout the video.
You can put whatever you want on it! Ranging from your logo, your face, your key phrase…and so on. The best thing is that you can customize it on your own. You won't have to go through the pain of receiving a customized product that turned out to be a BIG MESS because the company didn't understand what kind of design you wanted. As you make it on your own via the online cube creator, the responsibility will be on your shoulders if you screw it up. Just kidding!
Posters
If you don't have much space to use apart from walls behind you, then posters of literally anything are here for you! It can be posters of you, posters of games you are playing or maybe some events. Just use something that represents you. In this way, you can help viewers make associations about the content on your channel.
Video game character figures
Last but not least is video game character figures or toys, collectible or not. A great way to represent your preferences in games. Perhaps, you really love a certain character just like the guy below who dressed as a Scorpion from Mortal Kombat. Some people love collecting those. If you are one of them, don't be shy and show your collection to your subscribers.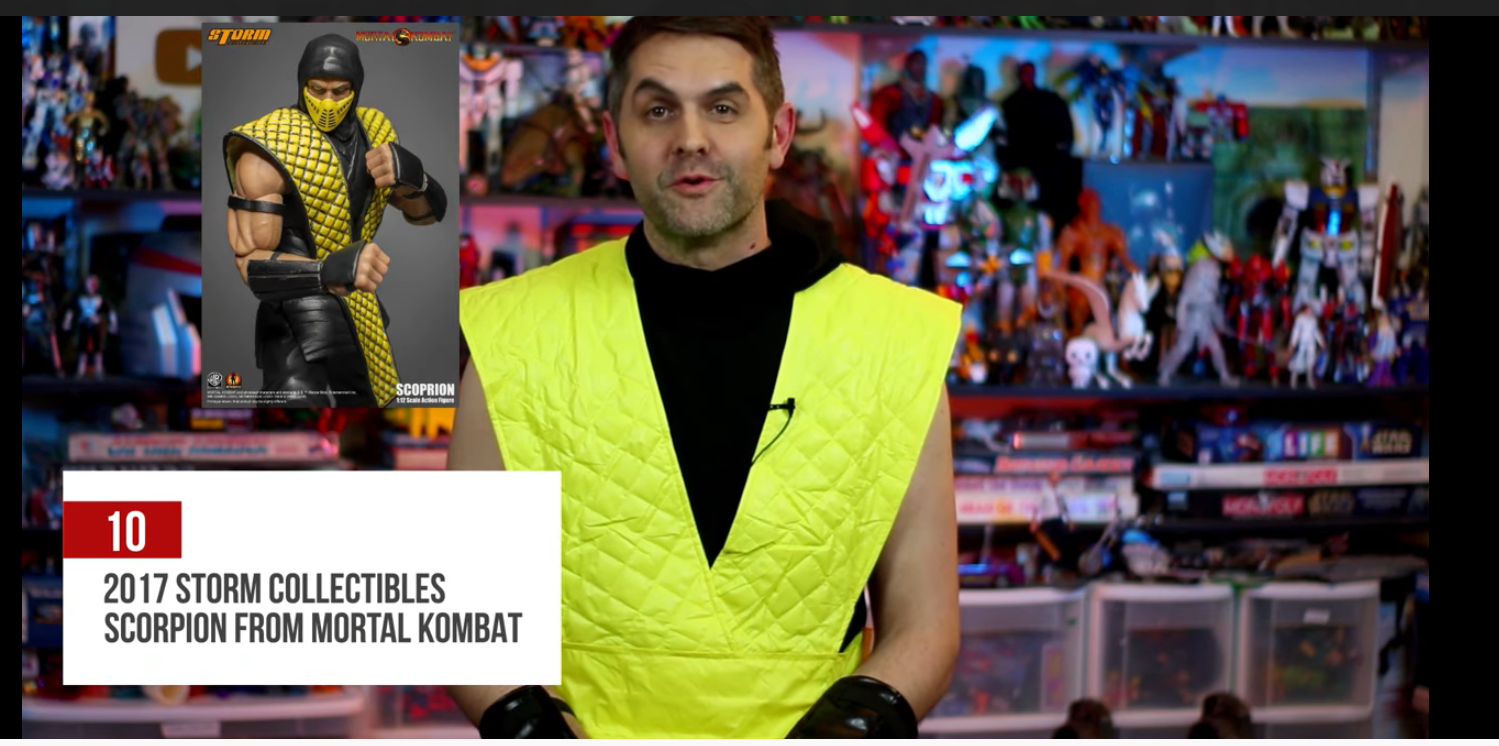 Conclusion
Branding is a key to success. It is important regardless if you are an aspiring YouTube gamer, beauty blogger or a fitness enthusiast. Perhaps you've already been making content for a while and you see no growth in your views, followers, likes, subscribers…Or you just want to develop your account. In any case, you should be focusing on branding to achieve your desired state.
Summary
Regardless of what stage you're at in your YouTube gamer career, you should do branding! However, it doesn't end with a nice channel banner and thumbnails for every video. You can do much more! Although the small screen of yourself doesn't take up the most space of the video, you can still benefit from it. By placing different objects such as branded merchandise, customized lightbox, posters, or game character figures you can keep boosting your brand. Just remember that people always pay attention to your background!
Have you already decided on how you're going to improve your background setting?
Good luck building your YouTube gaming channel, and have fun!
Image credit: Ina Fassbender; Brynley Louise; Mediakix; Animaker; Janine Gutierrez; Toy Galaxy, Ninja; Forbes; Markiplier.